Cactus Canyon Construction is very interested in being your adobe building contractor. The first steps toward this goal have been taken. Currently, we have three seasons of making bricks with local materials. Each batch of bricks are better than the previous and we now feel that we can provide quality wall and old world entry building services. Adobe projects necessitate planning because the bricks are formed and cured in the sun. Adobe walls and entries are not straight concrete walls. They have character and charm.
If you would like to consider building an adobe wall or entry to your property, please call James at 541-647-8195 or send us an email. James would be glad to discuss your project and develop a free estimate for you.
We sell adobe bricks for $3.50 each, and entry and wall projects start at $45 per linear foot for a three foot high wall (not including footer or roof, if desired). 12"X16"X4" bricks are semi-stabilized with portland cement and sealed in place.
Over the past three summers (07, 08 & 09) Cactus Canyon Construction started their first stabilized adobe brick project. A fully stabilized brick is water proof. We haven't got there yet. Below is the north end of an adobe wall. The wall will be sealed.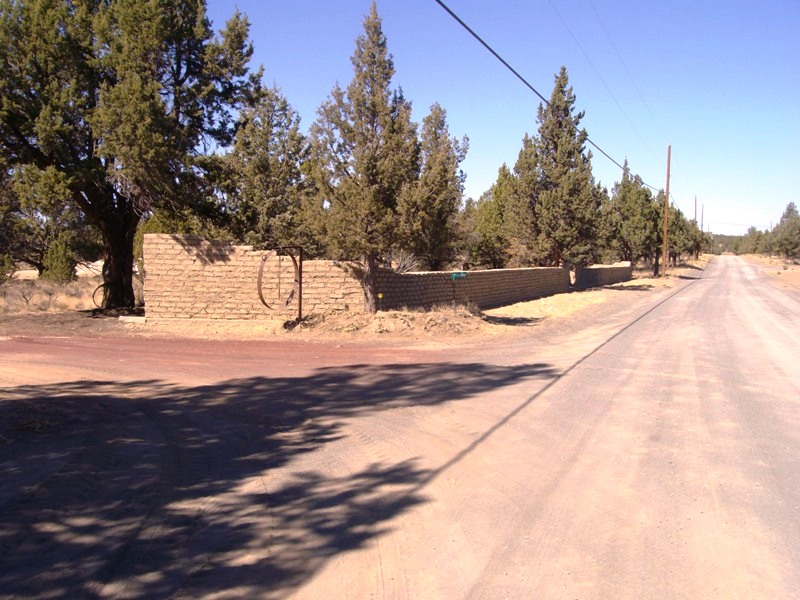 If you would like to see the wall, you can drive by at 15650 SW Dove Road, in the Crooked River Ranch (west of Terrebonne).
As stated previously, fully stabilized adobe bricks are water proof. There is hundreds of years of knowledge related to earth building and adobe. Adobe structures are beautiful, earth friendly and can help save on energy costs. The picture below shows both an adobe wall and also an adobe home with a stucco finish. The source of the photo is http://www.nmhomes.com/pics/.<![if !vml]>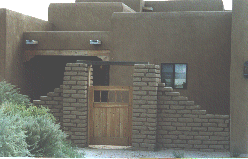 <![endif]>
Earth building is one of the oldest methods in the world and one that can leave the smallest carbon footprint also.
Did you know that a typical red brick takes approximately 13,570 BTUs (British Thermal Units) to make it? A traditional adobe brick 10"X4"X14" requires only 2,500 BTUs, (approximately). Amazing huh! If we measure an energy quotient, adobe is the best building block. Check out these further data:
- Paving brick 24,570 BTUs
- Concrete Masonry Unit (CMU) 8"X8"X16" 29,018 BTUs
- 94lb sack of Portland Cement 381,624 BTUs
- 100lb sack of hydrated lime 440,619 BTUs
(adapted from The Earthbuilders' Encyclopedia" by Joseph M. Tibbet
Follow this link to see more photos of adobe building. Thanks for visiting! Give us a call! We would love to do a project for you!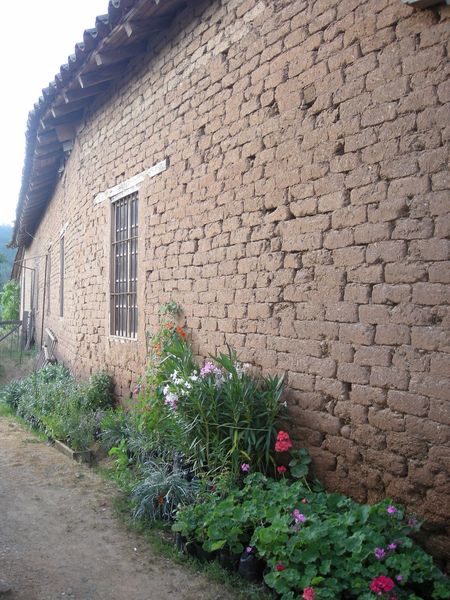 This is a picture of an adobe wall in Chile. Who knows how many years old this house is. It is in Vichuquen, and could be hundreds of years old.
Follow this link to view some adobe houses in Vichuquen, Chile. Crazy Spaniards built many of these houses in the 16th century (1500s!). Because of the age of these adobe structures, Vichuquen is a protected pueblo (Zona tipica in 1990). Sort of like a Chilean National Monument Pueblo.
Cradle to Grave Analysis
What is the source for the raw material utilized in the building product?

Is the raw material limited or renewable?

Does the extraction of the raw materials cause pollution?

How much energy (fuel) is necessary to transport the raw material to production?

Are there hidden costs to the product manufacturing? i.e. deterioration of water, air or health of the local population that is not accounted for by the manufacturer?

How much energy (fuel) is necessary to transport the building products to the construction site?

Do the building products emit pollution?

What is the lifespan of the product?

Once the building reaches the end of it's lifecycle, are the materials recyclable?

Does the building design and performance lead to energy conversation?

What is the building materials overall impact on human health?
(adapted from The Earthbuilders' Encyclopedia" by Joseph M. Tibbets,
Earthen construction methods and materials offer real environment benefits. Adobe materials are mined locally, manufactured locally, transported locally and will return to the earth where thence it came.
But the real reason Adobe is special is because projects and homes built with Adobe are special!! They are beautiful. Sound does not penetrate adobe walls. The conductive heat flow of the thermal mass walls mean that that homes are cool in the summer and warm in the winter. Adobe is the way to go! To view the advance of an adobe wall project, click on the projects page in the photo gallery. Give us a call or drop us an email if you would like to discuss an traditional adobe project. - Thanks!
<![if !vml]>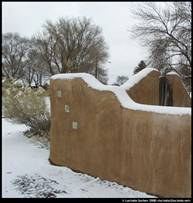 <![endif]>
The source for the adobe wall photo is http://www.lucinda.net/santafe